The Final of the 17th RMP ARIA and Handel's Dixit Dominus
Now firmly established as one of Australia's most prestigious singing events, the RMP Aria is Australia's pre-eminent competition for oratorio soloists. Previous winners now rank amongst the nation's most successful concert artists, with many having gone on to spectacular international careers. Hear seven of Australia's finest oratorio soloists perform spectacular Arias and Recitatives from the world of oratorio, accompanied on piano by the brilliant Australian pianist Stefan Cassomenos.
Together the finalists will compete for thousands of dollar's worth of cash and prizes, and a future invitation to appear as a soloist with the RMP.
2023 Finalists:
Tom Buckmaster, tenor, 26, Perth WA (b. Melbourne , VIC)
Talia Garrett-Benson, mezzo-soprano, 25, Brisbane QLD (b. Brisbane, QLD)
Jack Jordan, tenor, 24, Melbourne VIC (b. Melbourne, VIC)
Chloe Lankshear soprano, 29, Sydney NSW (b. Canberra ACT)
Hannah Kostros, mezzo soprano, 29, Melbourne VIC (b. Melbourne, VIC)
Benjamin Glover, tenor, 29, Melbourne VIC (b. East Melbourne, VIC)
Alla Yarosh, mezzo soprano, 22, Logan City QLD (b. Tal'ne , Ukraine)
Reserve Finalist: 
Alex Owens, baritone, 24, Melbourne VIC (b. Camperdown VIC)
Following the Final, RMP Chief Conductor Andrew Wailes will direct a performance by the acclaimed RMP Choir and Orchestra and five of Australia's finest soloists,  in a rare performance of Handel's virtuosic and spectacular Dixit Dominus.
Completed in April 1707 while Handel was living in Italy, Dixit Dominus is an extended psalm setting in 8 movements that uses the Latin text of Psalm 110 (Vulgate 109), which begins with the words Dixit Dominus… (which translates to "The Lord Said unto my Lord: Sit thou on my right hand, until I make thine enemies thy foot-stool.").
Regarded by many as one of Handel's finest works, the work is also Handel's earliest surviving autograph. The work was written in the florid baroque style of the period and is scored for five vocal soloists (SSATB), five-part chorus, string orchestra and continuo. It is thought that the work was first performed on 16 July 1707 in the Church of Santa Maria in Montesanto, under the patronage of the Colonna family.
The psalm is set by Handel to music of exceptional brilliance, the dramatic contrasts within and between movements vividly illustrating and reinforcing the words. Dixit Dominus is a showpiece for both singers and players alike, and whilst its unremitting energy and dramatic intensity presents all the musicians with considerable challenges, the demands that Handel makes on the choir are extremely testing, and seldom equaled in any of his later works. The piece is an extraordinary tour-de-force, particularly for a 22-year-old composer, and demonstrates Handel's precocious mastery of counterpoint, of harmonic and melodic invention and, perhaps most impressively, of powerful dramatic gesture.
Andrew Wailes, conductor
Stefan Cassomenos, piano and harpsichord
Mia Robinson, soprano
Astrid Girdis, soprano
Michael Burden, alto
Timothy Reynolds, tenor 
Nicholas Dinopoulos, bass baritone 
RMP Aria Finalists
Royal Melbourne Philharmonic Choir
Royal Melbourne Philharmonic Orchestra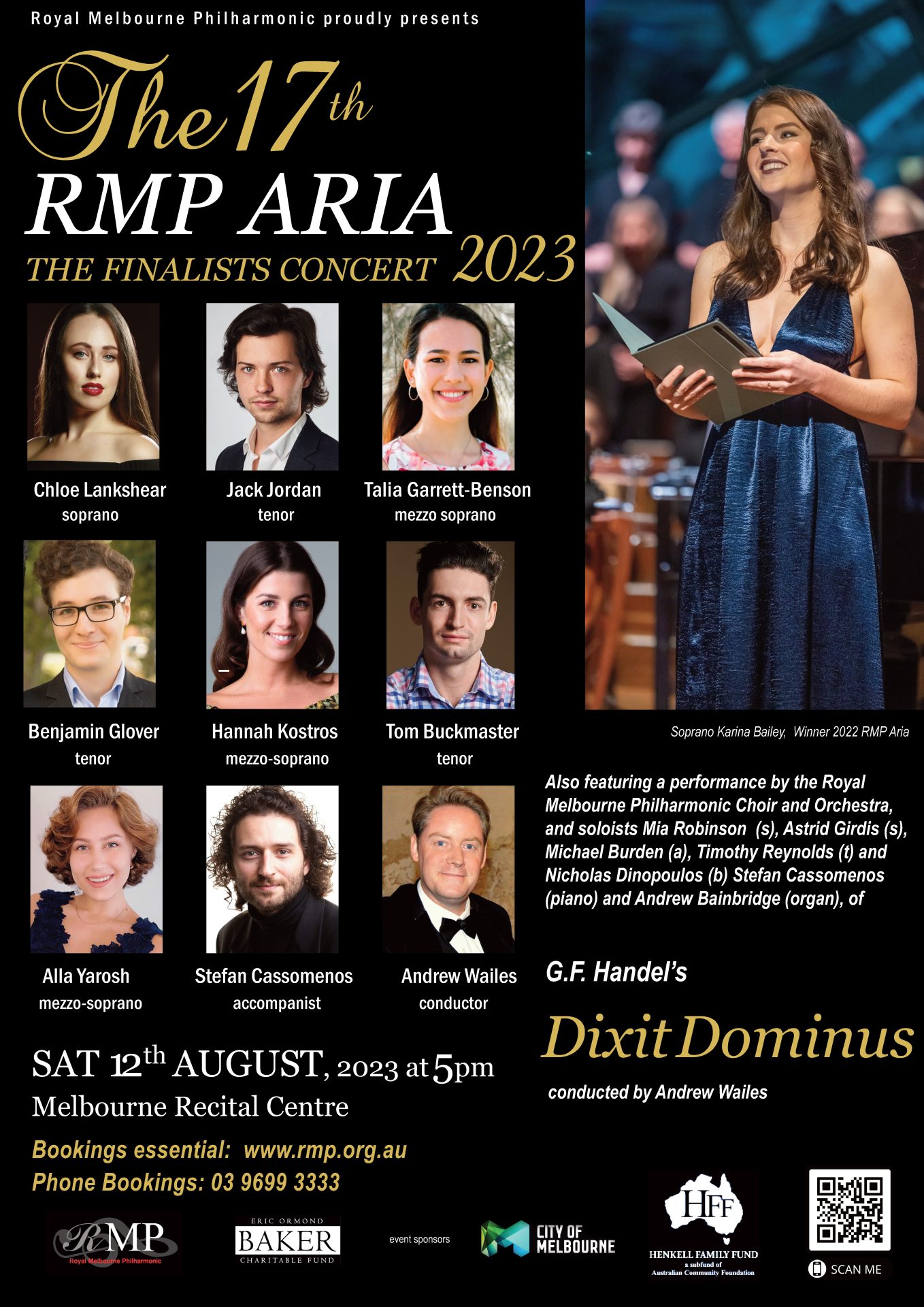 TO ENTER THE 2023 RMP ARIA:
Please note that the deadline for entries (5pm Tuesday 1st August 2023 has now passed. Entries are now closed.
For further instructions please refer to the entry form.