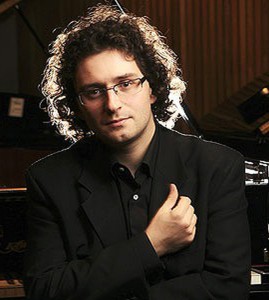 Stefan Cassomenos is the RMP's Principal Accompanist. Stefan studied with Margarita Krupina, Stephen McIntyre, Ian Munro and then later with Michael Kieran Harvey, at the Australian National Academy of Music. Stefan previously completed a Bachelor of Music degree with Honours (on a Faculty Merit Scholarship) at Melbourne University, majoring in Performance.
He has been awarded several prizes for his playing, both at the university and externally at eisteddfods and competitions including the Lev Vlassenko Piano Competition and the Australian National Piano Award.
In 2008, he was awarded two travel scholarships by the Youth Music Foundation of Australia, as their Rome Scholar at the British School at Rome, where he studied with Marcella Crudeli, and as their Oxford Scholar, performing  at the Philomusica Piano Festival at the University of Oxford. More recently, he was a grand finalist and prize-winner at both the Trieste International Chamber Music Competition, and the Melbourne Asia-Pacific Chamber Music Competition.
Stefan has appeared as a soloist in St Petersburg, Tallinn, Warsaw, Krakow, Athens, Rome, Milan, Amsterdam, London, Bangkok, and Tokyo. He gives solo recitals regularly throughout Australia, and has performed concertos with the Adelaide Symphony Orchestra, Orchestra Victoria, and a number of regional and student symphony orchestras. His 2007 London debut was described, in a Musical Opinion review by John Amis, as 'alive, passionate, and dramatic … as if the pianist's life depended on it. This was a prodigious London debut by a formidable talent.'
Stefan has also been composing since the age of seven, and performing his music internationally since the age of ten. His compositions have been performed by both the Melbourne and Adelaide Symphony Orchestras, and continue to be performed and commissioned by many other orchestras and chamber ensembles. He was Composer-in-Residence for the Creative Universe 'Creative Innovation' 2010 and 2011 conferences, at  the Melbourne Recital Centre.
Stefan has been the Guest Artistic Director of Melbourne's Piano Landmarks festival since 2009, and was the Artistic Director of the 2007 Melba Festival.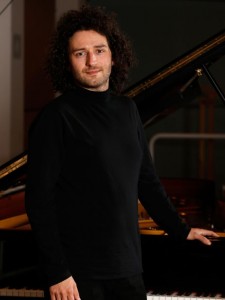 In  2010 he was the conductor of the Percy Grainger Youth Orchestra, a part of the Saturday music program offered by Melbourne Youth Music, and for 2011 conducted the Chamber Strings of Melbourne. Stefan is generously supported by Kawai Australia, Music Theatre Australia, and the Youth Music Foundation of Australia.
In 2010 Stefan took up his new position as Principal Accompanist of the Royal Melbourne Philharmonic Choir, and in 2011 appeared with the RMP Choir and Orchestra as soloist in Mozart's Piano Concerto No. 25, and in  a series of chamber music concerts presented by the RMP at the Melbourne Recital Centre which included solo works and chamber music by composers including Mozart, Lizst, Chopin and Percy Grainger. In 2012 he was commissioned by the choir to compose a major work for choir, soloists and strings; Hieratikon, which was performed in a series of concerts throughout regional Victoria and in Melbourne as part of the RMP's ICONS tour.
In 2012, he was a finalist in the Rhodes International Piano Competition. He has won prizes in national piano competitions, and international chamber music competitions which most recently included 2nd prize in the 2013 International Telekom Beethoven Competition in Bonn (Germany), where he was also the recipient of the special prize for chamber music.