BOOK TICKETS:  Saturday 30 April 7pm Hawthorn Arts Centre (360 Burwood Road, Hawthorn, Vic 3122)
TICKETS ALSO AVAILABLE AT DOOR or from HAC BOX OFFICE Monday to Friday 8:30am to 5pm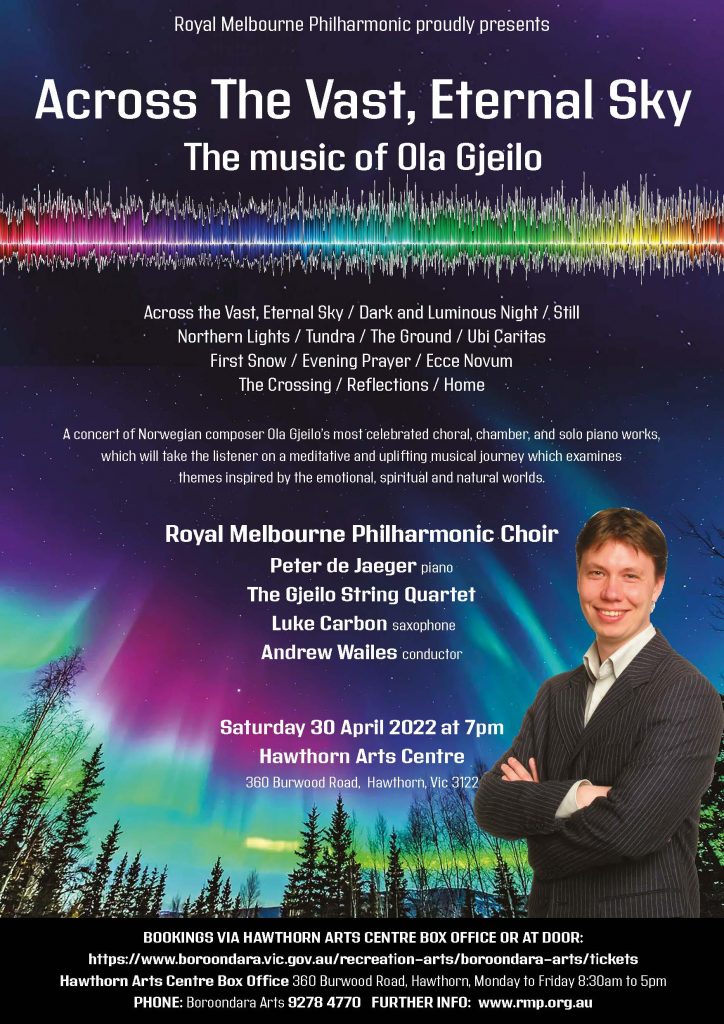 Following the world-wide pandemic that closed concert halls and rehearsal rooms across the globe for much of 2020 and 2021, the RMP successfully returned to live concert performance in Melbourne in December 2021, and launches its 2022 season with a glorious program of music by one of the world's most successful composers of recent times.
Ola Gjeilo is one of the most frequently performed composers in the choral world. An accomplished pianist, improvisations over his own published choral pieces have become a trademark of his collaborations. Although Norwegian by birth, it is perhaps Ola's adopted country of America that has influenced the composer's distinctive soundworld the most, evolving a style that is often described as cinematic and evocative, with a lush, harmonious sound.
Across the Vast, Eternal Sky celebrates the music of Ola Gjeilo. A combination of his best-loved choral, chamber, and solo piano works, this concert will take the listener on a meditative and uplifting journey throughout Gjeilo's most celebrated compositions, which examine themes inspired by the emotional, spiritual and natural world.  From the famed Northern Lights of the Arctic, to the sweeping Norwegian Tundra (for women's voices), to the achingly beautiful The Ground (taken from the Sunrise Mass), and works such as Evening Prayer (with improvised soprano saxophone and piano), Ubi Caritas (with piano improvisation) and Ecce Novum Gjeilo's music combines beautiful harmonies with a sense of space and movement of time with subtle cinomatic and jazz influences.  Dark and Luminous Night (both for 8-part choir, string quartet and piano) provide two outstanding examples of Gjeilo's ability to communicate directly with the listener's emotions. Complementing his choral works will be several of his chamber instrumental works, including The Crossing, Reflections, and Home (for Piano and String Quartet).
Ola grew up in a musically eclectic home listening to classical, jazz, pop and folk, a broad background he later incorporated into his classical composition studies at The Juilliard School, the Royal College of Music in London, and currently as a New York City-based freelance composer. He is especially inspired by the improvisational art of film composer Thomas Newman, jazz legends Keith Jarrett and Pat Metheny, glass artist Dale Chihuly and architect Frank Gehry.
Hear this sublime music in The Hawthorn Arts Centre (formerly the Hawthorn Town Hall. ) Designed by architect John Beswicke in the Second Empire style, and built from 1888 to 1890, the building originally housed the council chambers for the City of Hawthorn. After the City of Hawthorn was dissolved in 1994 and absorbed into the newly created City of Boroondara, the building was used as a library, museum and gallery space. A $17.9 million redevelopment was commenced in April 2012 to convert the former town hall into a regional arts centre. The hall was renamed to the Hawthorn Arts Centre and officially opened in 2013. Decorated in a palette of gold, red, beige and creamy tones, the Main Hall is awash with Arts Deco glamour. The Main Hall boasts a large stage, high ceilings, ornamental woodwork and stained glass windows making it a fine venue in which to enjoy musical performances.
Andrew Wailes,conductor
Peter de Jager, piano
Luke Carbon, saxophone
Gjeilo String Quartet (Roy Theaker, Donica Tran, Vicky Vukovich, Hamish Jamieson)
Royal Melbourne Philharmonic Choir
BOOKINGS VIA HAWTHORN ARTS CENTRE BOX OFFICE:
NB tickets may be booked online, collected in person from the box office, and will also be available at door on the night unless sold out. Prior booking strongly advised.
https://www.boroondara.vic.gov.au/recreation-arts/boroondara-arts/tickets
HAWTHORN ARTS CENTRE BOX OFFICE 360 Burwood Road, Hawthorn, Monday to Friday 8:30am to 5pm
PHONE: Boroondara Arts 9278 4770
Concert duration is approximately 75 minutes without interval