The Final of the 16th RMP ARIA and RUTTER'S REQUIEM
Now firmly established as one of Australia's most prestigious singing events, the RMP Aria is Australia's pre-eminent competition for oratorio soloists. Previous winners now rank amongst the nation's most successful concert artists, with many having gone on to spectacular international careers. Hear some Australia's finest oratorio soloists perform spectacular Arias and Recitatives from the world of oratorio, accompanied on piano by outstanding pianist Peter De Jager who will be this year's official accompanist.
Together the finalists will compete for thousands of dollars worth of cash and prizes, and a future invitation to appear as a soloist with the RMP.
Following the Final, RMP Chief Conductor Andrew Wailes will direct a performance by the RMP Oratorio Festival Choir, consisting of singers from the Royal Melbourne Philharmonic Choir, Melbourne University Choral Society and Box Hill Chorale, along with a chamber ensemble of players from the Royal Melbourne Philharmonic Orchestra, in a performance of composer John Rutter's much-loved Requiem.
The Requiem, completed in 1985, does not adhere strictly to the conventional Ordinary Mass according to Catholic liturgy, but combines texts from the Requiem Mass and the 1662 Burial Sentences from the English Book of Common Prayer. This is by no means unusual; Faure, Brahms, Durufle and Britten all followed their own individual preferences when selecting appropriate verses to set. Rutter structured the work in seven movements, similar to the famous Requiem setting of Gabriel Fauré.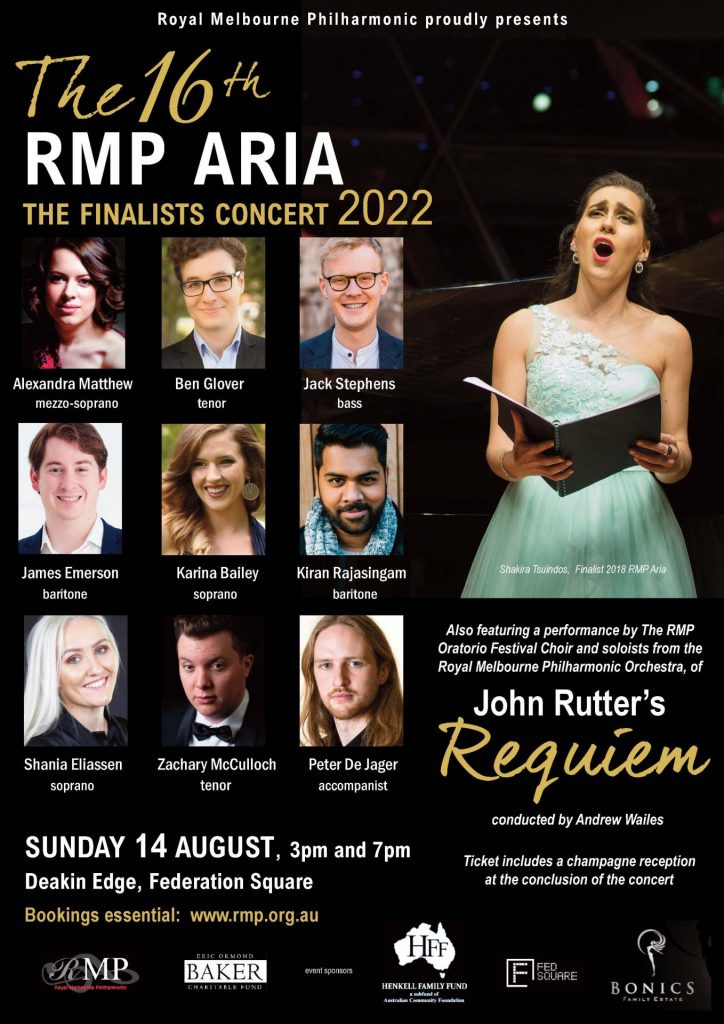 A very personal and emotionally-charged piece, it bears the dedication "in memoriam L. F. R.",  and is dedicated to John Rutter's father, who had died the previous year. It is scored for soprano, mixed choir and chamber ensemble or orchestra.
As with the Requiems of both Fauré and Duruflé, the work includes a setting of the "Pie Jesu", and focuses on the soprano soloist. The work also includes Rutter's superb setting of the 23rd Psalm, "The Lord is My Shepherd", notable for its plaintive oboe solo, delicate orchestration and sensitivity to the text. This exquisite and moving piece, though composed some seven years earlier in the USA, was surely destined for this context, encapsulating as it does the work's message of reassurance.
Since the work's first performance on 13 October 1985 at the United Methodist Church, Dallas, Texas,  it has become a firm favourite with choirs and audiences the world over. Though it necessarily has its dark moments, Rutter's Requiem is unmistakably optimistic in its message of hope and comfort, expressed through the beauty of the chosen texts and Rutter's uplifting music. Though very much written in the English Cathedral tradition, Rutter's music has well and truly transcended international boundaries.
TWO PERFORMANCES:
3pm Afternoon Matinée performance (Concert only)
7pm Evening Gala performance (including RMP Aria Final)
Peter De Jager, piano
RMP Aria Finalists: 
Alexandra Matthew, mezzo-soprano, VIC
Ben Glover, tenor, VIC
Jack Stephens, bass , NSW
James Emerson, baritone, VIC
Karina Bailey, soprano, SA
Kiran Rajasingham, baritone, VIC
Shania Eliassen, soprano, VIC
Zachary McCulloch, tenor, VIC
Andrew Wailes, conductor and adjudicator
Sally Anne Russell, adjudicator
Christopher Watson, adjudicator
RMP Oratorio Festival Choir 
RMP Chamber Soloists (flute, oboe, harp, cello, glockenspiel, timpani, organ)