2018 RMP ARIA FINALISTS ANNOUNCED:
Congratulations to the following singers who have been named the finalists of the 2018 RMP Aria. Representing 5 states, they will battle it out on Sunday at Deakin Edge, accompanied by Stefan Cassamenos. Joining Stefan and RMP Artistic Director Andrew Wailes on the panel will be the distinguished mezzo soprano Sally-Anne Russell and organist composer Dr Calvin Bowman.
THE FINALISTS:
Briana Louwen (27, Bedford WA) Soprano
Christian Smith (27, Glen Iris, VIC) Baritone
Charlotte Kelso (24, Walkerville, SA) Mezzo Soprano
Celeste Haworth (32, Narabeen NSW) Mezzo Soprano
Karina Bligh (26, Longwood SA) Soprano
Cassandra Wright (24, Cairns QLD) Soprano
Jane Magão (22, Reservoir, VIC) Soprano
Shakira Tsindos (25, Ivanhoe VIC) Mezzo Soprano
Hamish Gould (25, Armadale, VIC) Counter Tenor (Reserve)
At this event you will also have the chance to hear a rare performance of  Giacomo Carissimi's beautiful and historically  important oratorio Historia di Jephte, considered one of the first real oratorios ever composed.
BOOK EARLY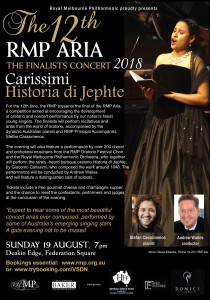 Giacomo Carissimi (c.1605 – 1674) is today celebrated as one of the most important masters of the early Italian Baroque. Carissimi established the characteristic features of the Latin oratorio and was a prolific composer of motets and cantatas. He was highly influential in musical developments in north European countries through his pupils and the wide dissemination of his music. His oratorio Historia di Jephte, composed around 1648, is based on the story of Jephtha in the Old Testament Book of Judges, and is scored for 7 solo voices, 6 part chorus, flutes, and plucked strings. Easily Carissimi's best-known composition, the oratorio is written in the operatic, declamatory style developed by Monteverdi and others at the beginning of the 17th Century.
The famous last chorus, 'Plorate filli Israel' ('Weep all ye daughters of Israel'), is widely considered one of the greatest choruses ever composed. Full of taut suspensions and agonizingly beautiful vocal lines it uses dense harmony from the six-part choir to paint the weeping of a community for a young girl who's about to be sacrificed. It grips both performer and listener to the very last note.
Program:
Final of the 2018  RMP Aria Competition
followed by a full scale performance of
Giacomo Carissimi Historia di Jephte
Andrew Wailes, conductor
Soloists Kate Macfarlane, Max Riebl, Brenton Spiteri, Nicholas Dinopoulos
RMP Oratorio Festival Choir
Royal Melbourne Philharmonic Orchestra
VIEW a performance of 'Plorate filli Israel'  HERE
About the composer:
Giacomo Carissimi's exact birthdate is not known, but it was probably in 1605 in Marino near Rome, Italy. Of his early life almost nothing is known. His first known appointments were at Tivoli Cathedral; from October 1623 he sang in the choir, and from October 1624 to October 1627 he was the organist. In 1628 Carissimi moved north to Assisi, as maestro di cappella (chapel master) at the Cathedral of San Rufino. In 1628 he obtained the same position at the church of Sant'Apollinare belonging to the Collegium Germanicum in Rome, which he held until his death. This was despite him receiving several offers to work in very prominent establishments, including an offer to take over from Claudio Monteverdi at San Marco di Venezia in Venice. In 1637 he was ordained a priest. He seems to have never left Italy at all during his entire lifetime. He died in 1674 in Rome.
The great achievements generally ascribed to Carissimi are the further development of the recitative, first introduced by Claudio Monteverdi, which is highly important to the history of dramatic music; the further development of the chamber cantata, and the development of the oratorio, of which he is today regarded as the first significant composer, with Jephte as probably his best known work. These works and other subsequent works in this form were important for establishing the form of oratorio unaccompanied by dramatic action, which maintained its hold for nearly 300 years. The name 'oratorio' comes from their original presentation at the Oratory of Santissimo Crocifisso in Rome.
FOR SOLOISTS WISHING WISHING TO ENTER THE 2018 RMP ARIA, DOWNLOAD THE ENTRY FORM HERE Please note that entries to the 2018 RMP Aria have now closed. 
PLEASE EMAIL musicdirector@rmp.org.au for information.