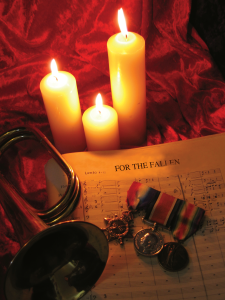 Join the Royal Melbourne Philharmonic Choir and Orchestra on ANZAC Day evening
in this special concert commemorating all those who have bravely fallen in conflicts past.
This emotionally-charged program will include iconic music and words which recall the tragic loss,
the futility of war,  as well as the heroic sacrifices and the glorious legacy of all those who have fallen
in Australia's wartime conflicts. The magnificent architectural setting of Melbourne's iconic
St Paul's Cathedral will enhance this very special concert event.
Program includes:
Edward Elgar: For The Fallen (The Spirit of England) with words by Laurence Binyon
Edward Elgar: Nimrod (Enigma Variations)
Tomaso Albinoni: Adagio for Strings (Theme from Gallipoli)
Christopher Willcock: We Will Remember Them (from 'Mass For the Fallen')
John Williams: Hymn to the Fallen (Theme from 'Saving Private Ryan')
Samuel Barber: Adagio for Strings (Theme from 'Platoon')
W.A. Mozart: Requiem Mass in D minor
Andrew Wailes conductor
Celeste Lazarenko soprano
Sally-Anne Russell mezzo soprano
Timothy Reynolds tenor
Christopher Richardson bass baritone
Royal Melbourne Philharmonic Choir
Royal Melbourne Philharmonic Orchestra
For tickets, click on the FIND TICKETS BUTTON ABOVE or click HERE
UPLOAD A DIGITAL COPY OF THE POSTER HERE