The 9th RMP Aria Competition Final
Sing Your Own Oratorio
Deakin Edge, Federation Square
THE WINNERS:
Bronwyn Douglass, (mezzo soprano, Queensland) FIRST
Jeremy Kleeman, (bass baritone, Victoria) JOINT RUNNER UP and People's Choice Award
Sarah Ampil (lyric soprano, New South Wales) JOINT RUNNER UP
Maximilian Riebl (counter-tenor, Victoria) THIRD
Timothy Newton (bass, Victoria) Conductor's Encouragement Prize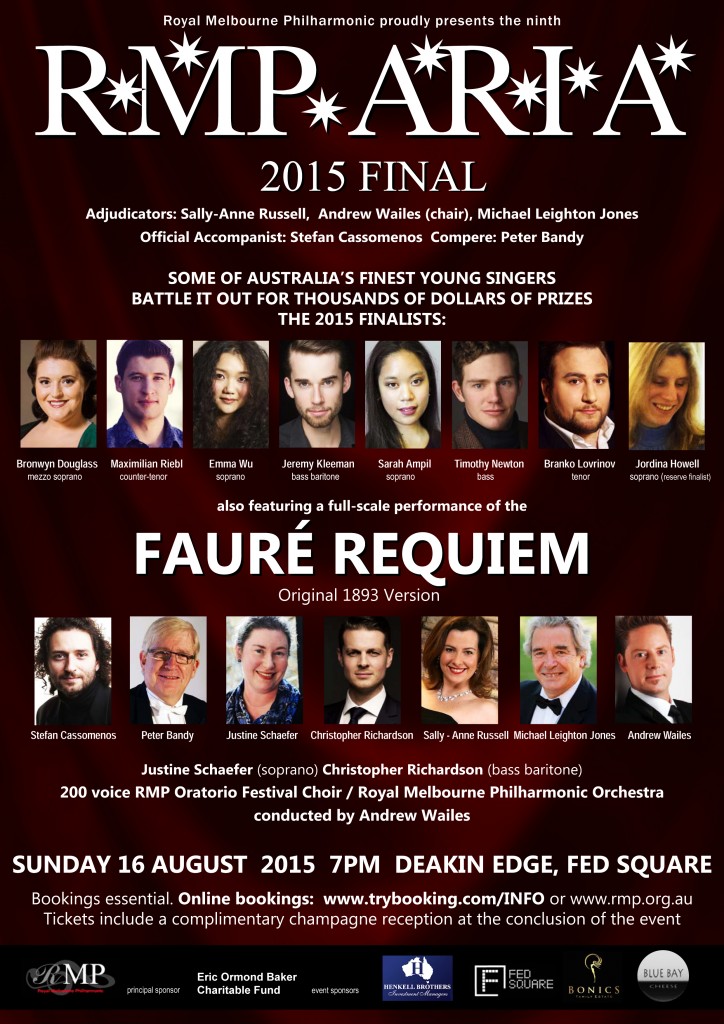 2015 RMP ARIA RULES AND ENTRY FORM_Layout 1
TO DOWNLOAD THE SING YOUR OWN ORATORIO REGISTRATION FORM CLICK HERE or visit HERE for more information about participating in Faure Requiem
PROGRAM: 
Selected Oratorio Arias and Recitatives
Gabriel Fauré Requiem Op.48 (1893 Version)
The Finalists of the 2015 RMP ARIA will battle it out for the chance to win thousands of dollars worth of cash, professional photography packages, language coaching and various other prizes – as well as future engagements with the Royal Melbourne Philharmonic.
Each singer will perform a short program of arias and recitatives from the world of oratorio, accompanied on piano by outstanding pianist and RMP Principal Accompanist Stefan Cassomenos. A distinguished panel of judges will decide over $5000.00 worth of cash prizes, as well as other awards including language coaching and professional photographic packages and future performance opportunities with the RMP.
At the end of the Final, RMP Chief Conductor Andrew Wailes will direct a full scale performance of Faure's sublime Requiem, featuring over 150 voices of the RMP Oratorio Festival Choir, the Royal Melbourne Philharmonic Orchestra and outstanding soloists – including former RMP Aria Winner, bass baritone Christopher Richardson.
Tickets include a free champagne reception at the conclusion of the evening, where audience members have the chance to meet the finalists, adjudicators, orchestra, choir and conductor.
A gala event, not to be missed!
Stefan Cassomenos Official Accompanist
Andrew Wailes  Adjudicator (Chair) and Conductor
Sally Anne Russell, Michael Leighton Jones Adjudicators
Christopher Richardson bass baritone
Peter Bandy Compere
RMP Aria Finalists
RMP Oratorio Festival Choir
RMP Orchestra
Online bookings via Trybooking: http://www.trybooking.com/INFO
For details about entering the RMP Aria, please direct your enquiries to Andrew Wailes (RMP Music Director) via email at: musicdirector@rmp.org.au.
NB. DOWNLOAD 2015 RMP ARIA RULES AND ENTRY FORM HERE  and further information will be posted on the RMP website as soon as it is released.
TO DOWNLOAD THE SING YOUR OWN ORATORIO REGISTRATION FORM CLICK HERE