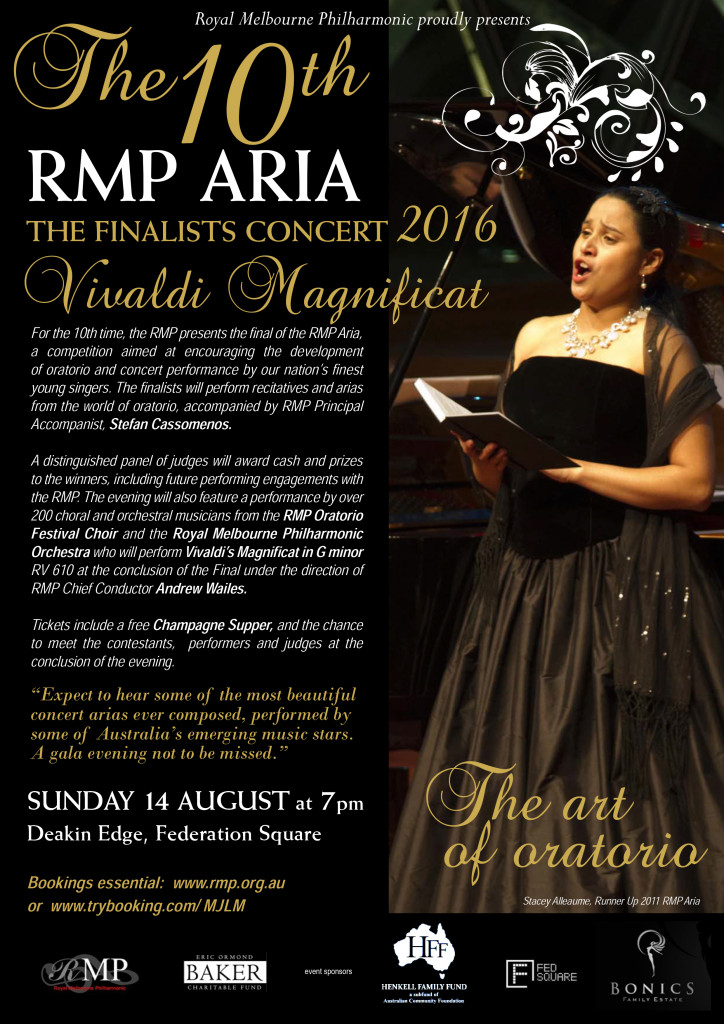 RMP presents the final of the 10th RMP Aria Competition, and a performance of Vivaldi's sparkling Magnificat in G minor, featuring over 200 performers from the RMP Oratorio Festival Choir and RMP Orchestra, conducted by Andrew Wailes.
For the 10th time, the RMP presents the final of the RMP Aria,  a competition aimed at encouraging the development  of oratorio and concert performance by our nation's finest young singers. The finalists will perform recitatives and arias from the world of oratorio, accompanied by RMP Principal Accompanist, Stefan Cassomenos.
A distinguished panel of judges will award thousands of dollars of cash and prizes to the winners, including future performing engagements with the RMP. The evening will also feature a performance by over 200 choral and orchestral musicians from the RMP Oratorio Festival Choir and the Royal Melbourne Philharmonic           Orchestra who will perform Vivaldi's Magnificat in G minor RV 610 at the conclusion of the Final under the direction of RMP Chief Conductor Andrew Wailes.
Tickets include a free Champagne Supper, and the chance to meet the contestants,  performers and judges at the conclusion of the evening.
"Expect to hear some of the most beautiful concert arias ever composed, performed by some of Australia's emerging music stars. A gala evening not to be missed."
Book now! Ticket includes a champagne supper.
SUNDAY 14 AUGUST at 7pm
Deakin Edge, Federation Square
Bookings essential: www.rmp.org.au
or www.trybooking.com/MJLM