On Melbourne Cup Day (Tuesday 4 November) the RMP Choir will again provide the musical entertainment for the opening ceremony of the Melbourne Cup Telecast, and will perform live to an international TV audience of hundreds of millions.
Later that evening the RMP will hold a public fundraiser / social event at the Drill Hall from 6pm, a "Cup day Classical Cabaret". Friends, families, audience, fellow musicians, and members of the wider community will have the chance to show their support by joining members of the RMP Choir and Orchestra for a fun, informal social gathering and musical celebration. This will also be an important fundraising event for the RMP which faces a bleak future, following the loss of all funding from the City of Melbourne in its recently announced round of triennial arts funding.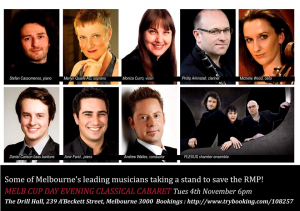 A special fundraiser at the historic Drill Hall (rehearsal home of the RMP), to raise much-needed funds for the Royal Melbourne Philharmonic – founded in 1853 – and Australia's oldest surviving cultural organisation. Join RMP Choir and Orchestra members for a fun, informal Cup Day Evening celebration.
Ticket includes Light refreshments, fine wines and cheeses, fruit platters and delicious nibbles, as well as wonderful entertainment provided by some of Australia's finest opera, instrumental and chamber musicians including outstanding award-winning Australian pianists Stefan Cassomenos and Amir Farid, Monica Curro (Assistant Principal 2nd Violin, MSO), Philip Arkinstall Associate Principal Clarinet, MSO), soprano Merlyn Quaife AO, contemporary chamber music ensemble PLEXUS, bass baritone Daniel Carison (2014 RMP Aria Winner), Michelle Wood (cello, MSO), and more!!!
There will also be a raffle, fabulous door prizes and a huge silent auction with all proceeds going to the fighting fund to help keep the RMP making music in Melbourne. Bring your friends, and get behind the RMP and help save a Melbourne Musical Icon!
MELB CUP DAY EVENING
Tues 4th November 6pm -10pm
At: The Drill Hall, 239 A'Beckett Street,
Melbourne 3000
BOOKINGS ESSENTIAL:
Book Online: http://www.trybooking.com/108257
Hurry to secure your tickets NOW, as places are strictly limited and selling fast!
THIS EVENT IS SOLD OUT
JOIN THE FACEBOOK EVENT:
https://www.facebook.com/events/1542834822620803/